Bilingual show  French and Spanish
Puppet farce – All public
By Federico Garcia Lorca
This farce has become a classic of puppet theater literature since its inception in 1934. The piece unites the poetic lyricism peculiar to Federico Garcia Lorca and the rough language of the popular puppet theater.
Distribution
Adaptation, puppet design and staging: Laurent Bancarel
Adaptation and translation:  Laurent Bancarel
Interpretes: Laurent Bancarel, Christine Kotschi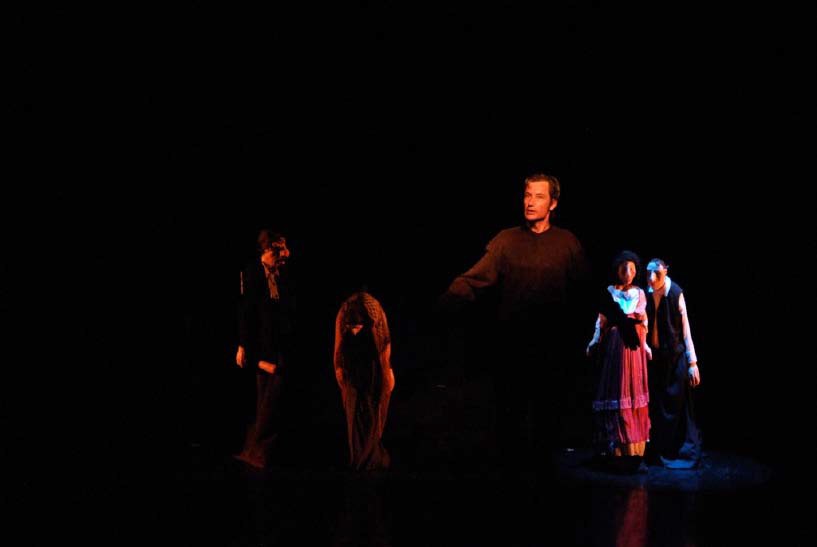 Music on stage and composition: Christine Kotschi
Co-realization : Theater of l'épée de bois, FOL de Hautes Pyrénées, Cultural action of the CCAS, French Alliance of Gijon, French Institut of Sevilla and University of Beaux Arts from Sevilla, Theater Canter (University of the Réunion)
Production: Company Théâtre et Figures
Partnairs : University of Beaux Arts from Sevilla, Conseil Général des Hautes Pyrénées, University of Saint Denis de la Réunion, Theater Canter
Subsidies: Conseil Général des Hautes Pyrénées and Conseil Régional de Midi Pyrénées
The show
The five puppet characters evolve on stage, they are manipulated by a comedian. Throughout the show they form paintings. The music was composed for the show and is performed by Christine Kotschi.
Beyond solitude in love
The characters of his Theater are often simple, intensely real people, inhabited by the "duende". "The duende is made of blood, ancestral culture and creation in act. This power that we all feel one day … It is the very spirit of the earth." F.G. Lorca. His work is built on a major theme: beyond solitude in love, life is a desire to satisfy. A desire that escapes man, unavoidably, at the very moment when he seems to grasp it.
Download the show file: Retablillo de don Cristobal (pdf – 265 Ko)